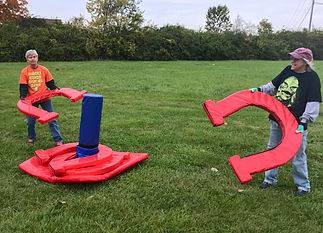 Giant Horseshoes
Setup Area: At least 25ft x 15ft Area




Set up Area Suggested: At least 25ft x 15ft Area
No Power Required

An old favorite backyard game has a new spin! These Giant Horseshoes are soft so they are great for the whole family. It may require a family/team effort especially when smaller kids play - the horseshoes will be bigger than the kids!

Includes Two Bases, Two Red Horseshoes and Two Blue Horseshoes. The bases are weighted to stay in place, but no special installation required.