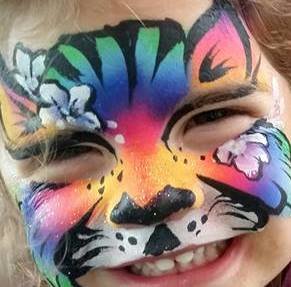 Face Painter
Our professional Face Painters are fantastic artists and can conform to all types of event needs.
Please call our office and give information about your event to receive the best quote.
We will do our best to match you with an artist local to your party area and event needs.
Many of our Face Painters can also do Balloon Animals and Glitter Tattoos. It is recommended to limit two activities per artist at one party.
Approximately 12-15 designs per hour is average for a birthday party or small event. More detail and quality takes time, but is worth having as it makes fantastic photos and memories.
If face painters offer simpler designs for large events, they can do up to 25 per hour.
Face Painting is recommended for participants 3 years and older. Adults often like to participate because our artists do a good job! Time must be accounted for adult participation as well.
Designs may be done on a face, arm, or even leg!
Our artists use professional products specifically made for skin application. Products are non-toxic, hypoallergenic, and kits are kept clean. Our artists begin each event with clean/sanitized utensils and paints.
Help the line move quickly by preparing your child before their turn by: securing loose hair, wiping their face, hold off on snacks until after, help your child choose the design they prefer, and save photo taking until after they leave the face paint chair. These simple steps will save time and allow the artist to do their best.
Set up: Most artists require a small table (card size) and two chairs. Some artists have kits with tables included and high chairs for participants to sit. If a table and chairs is needed, we will ask.
$400 - 2 hour minimum booking.