Balloon Artists
Our Balloon Artists can make just about any kind of balloon character you can think of. Children of all ages will love having a balloon in the shape of a character of their choice.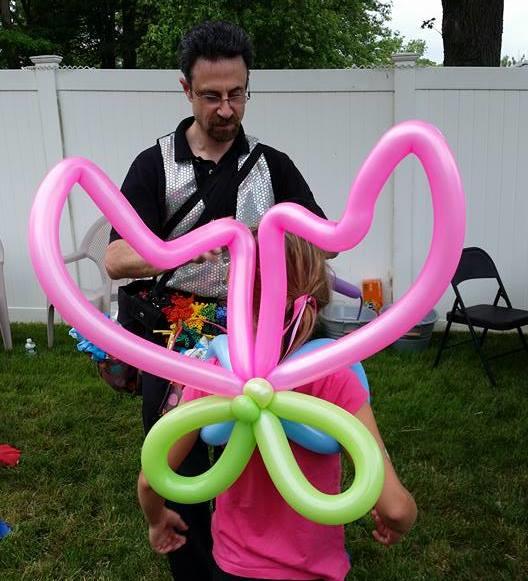 How much time do we need and how many can they make per hour?

- Time needed depends on your event, how many guests will get a balloon, and level of complexity desired.

- At large events with hundreds of people, artists will offer simpler options and can do approximately 20-25 designs per hour. We suggest booking the artist the majority of the event, and possibly book more than one person. Designs will be made with one to three balloons and options usually include swords, flowers, wands, hats, and small animals.

- At smaller events such as birthday parties we suggest booking for quality work. Our artists make full Superheroes, Princesses, all types of animals, tv/movie characters, cars and trucks, and more! For quality designs, artists make about 10-12 per hour. Designs are made with 3 or more balloons in various shapes and sizes.
What time should we have the balloon artist begin and end?
- Large events with one artist - book the entire length of the event.
- Large events with two or more artists: If event is 10am-2pm, we suggest booking them in the middle of the day, i.e. 10:30am-1:30pm. This gives people a chance to arrive, then helps clear out the event on time.

- Private Parties - consider your event schedule and guest behavior. If your guests tend to arrive to parties late (most do!), schedule the balloon artist at least 30 minutes in.

Example: A birthday party took place in South Jersey with family traveling from North Jersey, PA, etc. and the mom knows her family runs late. The party was 2pm-6pm - we scheduled the artist for 4pm-5:30pm and all guests were present and were able to leave on time.
Helpful Tips for Parents:
- Children 3 and under cannot be given a balloon. Do not leave young children alone with a balloon.

- Balloons WILL POP. What pops balloons? GRASS, extreme temperatures, tiny specs of dirt or debri on the ground that are barely visible, aggresive play. Keep your balloon in the air!

- Balloons are a temporary art and part of the experience is watching the artist create a character from straight simple balloons.