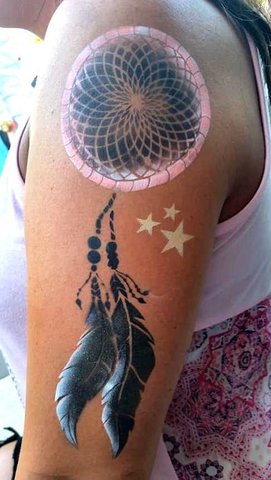 Airbrush Tattoo Artist
COLORS & QUANTITY :
Airbrush Tattoos may include all colors, even glow/UV options. When offering multiple colors, artists can do approximately 15-20 per hour.
One color tattoos - if the artist only offers one color (usually black in this case), approximately 30 or more tattoos can be done per hour.
More about Airbrush Application, Products, & After Care:
Airbrush Tattoos can last about 5 days.
Airbrush Tattoo paint is easily removed with rubbing alcohol. Baby oil or some make-up removers also work.
Airbrush Tattoos are primarily applied using a stencil and the artist will display design choices at the event. Some artists are comfortable with free hand application but to achieve the sharpest lines and clearest picture, stencils are necessary.
Paint dries almost immediately, is water and sweat resistant. For best results, avoid water contact for at least 10 minutes after application. If going in a pool, avoid placing the tattoo on areas that will rub against swimmies or suits. To help it last, avoid scrubbing the area when bathing.
Paint used is professional body make up made with cosmetic grade ingredients and FDA approved pigments, and is alcohol based.
Airbrush tattoos are not for the face - they may be applied from the neck down. If face make up is desired, please specify, as some artists do carry airbrush face paint.
*POWER REQUIRED - Airbrush Tattoos require the use of an air compressor which needs one standard circuit. To ensure power is sufficient, please plan to dedicate this circuit to airbrush.