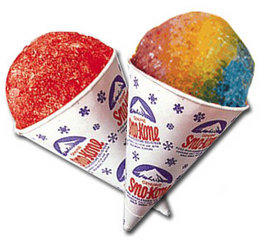 Snow Cones Cart
Snow Cones machine.
Machine rental comes with 50 cones, syrup, and machine. ( ICE NOT INCLUDED)
You can pick this item up or ask about delivery fees.
Set Up Area Suggested: 6ft Long x 4ft Wide
Power Required: 1 x 110 Volt Line

Flavors Included: Blue Raspberry, Red Berry, and Lemon Lime

Additional flavors may be provided upon advanced request. Options Include Banana, Orange, Grape, Root Beer, Bubble Gum, and Pineapple.

Includes Machine, Flavors, Cones, Ice for requested number of servings, and napkins.