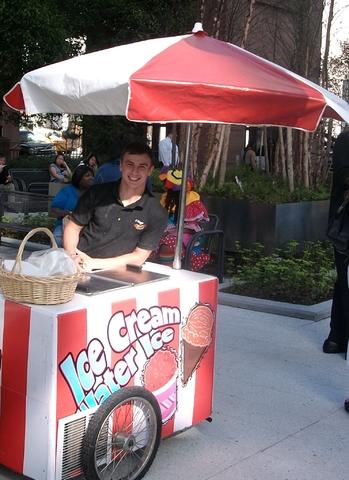 Ice Cream Cart
Ice Cream or Water Ice Cart. Call for more details.


Set Up Area: 5ft L x 5ft W. Height Varies - if using umbrella allow an 8ft Height Clearance.

Power: 1 x 110 Volt Line; Can be used with Dry Ice as well if power is not available.

*Cart as shown was dressed up for a Luau Theme. Ask your Sales Rep about customization for themes!

We serve Ice Cream as Individually Wrapped Novelties, or Hand Scooped Ice Cream in Cups.

Cups, Napkins, and Spoons Included.

Add a Sundae Topping Bar!! Toppings Include Rainbow & Chocolate Sprinkles, Chocolate & Caramel Syrup, Reeces Pieces, Crushed Oreos, Walnuts, Whipped Cream, and Cherries.
Hand Scooped Flavors
Always Includes: Vanilla, Chocolate, Strawberry
Additional Options: Cookie Dough, Cookies N Cream, Mint Chocolate Chip, Banana, Banana Fudge, Vanilla with Swirl: Fudge, Raspberry, or Peanut Butter, Mocha Chip, Peanut Butter Cup, Chocolate Fudge Brownie Blast
Seasonal Options: Apple Cinnamon, Eggnog, Gingerbread, or Pumpkin Pie
Novelty Options
Please choose THREE to be offered at your event.
Ice Cream Sandwiches, Fudge Covered Vanilla Pop, Nutty Cone, Creamsicles, Chipwich, Chocolate Eclair, Strawberry Shortcake.
Sub one flavor for Assorted Water Ice Cups!
Also, ask about our Mini melts! Mini melts can be hand scooped or served out of pre packaged cups in many flavors!!!