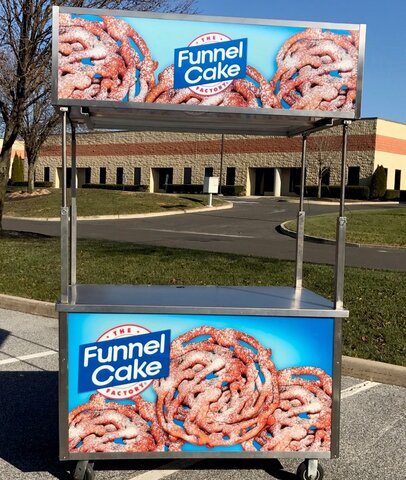 Funnel Cake Station
Funnel Cake Station.This station is offered in a variety of different packages. Funnel cake can be served from the trailer, large stadium cart, or small stadium cart. Call for more details.
Set Up Area Needed: 10ft W x 15ft L x 10ft H
Varies slightly based on your style choice.

Power Requirements: When cooked in a fryer, propane is used and no electric is required.
We can do Funnel Cake baked in an oven for indoor events and specific requests. This requires one 110 volt dedicated circuit.

Have this festival favorite at your own Birthday Party and we'll even make you a special Funnel Birthday Cake!

Funnel Cake can come as a stand all on its own like our Festival Concessions or in the Catering Trailer as seen to the left.
It can be the dessert within a party package - out of the catering trailer or part of a buffet line, or within our cart set up.
Or, if you're having a large event and want to draw attention, our new light-up Stadium Cart is perfect!
Check out our new Stadium Funnel Cake Cart!
It lights up, has shelving, and looks awesome at any event. Recommended for events of 100 guests or more.