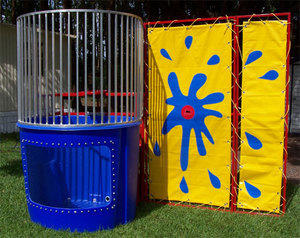 TBD
Please call to reserve this item.

Soak 'em good in our 400 gallon Dunk Tank filled with water! Participant throws a ball and when target is hit, the seat is released and the volunteer falls into the tank! Client must provide volunteers to sit in Dunk Tank.

20'L x 20'W area needed.

Must be at least 5ft tall to be dunked; any age can throw the pitch to dunk the volunteer.

400 gallons of water are required to fill the tank. Customer must provide water source and fill by garden hose or fire truck water hose. Takes approximately 1 - 1.5 hours to fill tank by garden hose and 10 minutes by fire truck hose.